Showing rooms from hotel
Iberostar Selection Anthelia, Costa Adeje
Flight found
Iberostar Selection Anthelia, Costa Adeje
edit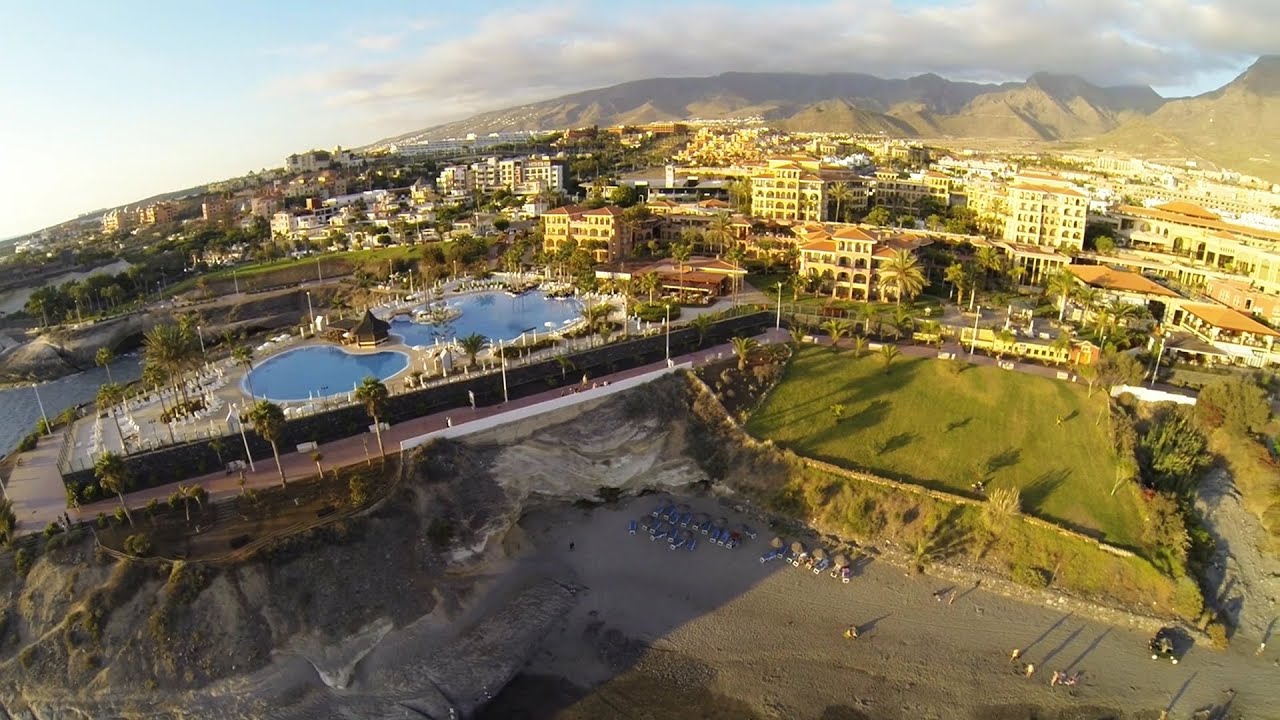 Overview
Iberostar Selection Anthelia is ideally located directly on the seafront between the two main beaches, Playa del Duque and Playa de Fanabe. The centre of Adeje is around 10-minutes away by car and has an array of restaurants, bars and shops on offer.
The hotel features 3 outdoor pools, each with its own sun terrace area furnished with loungers. During the day, there is a full and varied programme for both adults and children to enjoy. Along with a mini club, maxi club and a venue for teenagers. At night, there is live music, shows and performances as well as and a 'chill out' terrace. There is also a spa which features a hydromassage pool, Turkish baths and a Finnish sauna. Massage, facials and wraps are also available. There are 4 on-site restaurants, each offering different cuisines.
Rooms at Iberostar Selection Anthelia are spacious and modern, each comes with amenities including air conditioning, mini bar, safe, flat-screen satellite TV and free WiFi. Private bathrooms include complimentary toiletries, bathrobe and hairdryer.
NOTE:-
Please note that we will no longer offer the "Unlimited Services" through our touroperator partners from summer 2020.
Help with hotel, flight or payment?
Facilities
Hotel facilities
Wifi
Free WiFi - Public Areas
Free Wi-Fi
Pool and Wellness
Swimming Pool - Kids
Spa and wellness centre
Gym
Swimming Pool - Outdoor
Massage
Sauna
Activities
Piano
Arcade Games
Tennis on site
Kids Club
Billiards or pool table (Surcharge)
Food & Drink
Room service
Restaurant
Breakfast service
Coffee shop or café
Bar / Lounge
Services & Shops
Car rental
Beauty services
Luggage storage
Babysitting (Surcharge)
Laundry facilities
Medical assistance available
Dry cleaning/laundry service
Currency exchange
General Info
Gift shop
24-hour front desk
Photocopy machines
Elevator/lift
Check-in time ends midnight
Designated smoking areas
Wheelchair accessible
Eurocard
Check-out by noon
Shopping on site
Pets not allowed
Conference center
Patio
Garden
Multilingual staff
Grocery
Check-in time starts 2:00 PM
Suitable for children
Room facilities
Room Amenities
Minibar
In-room safe
Hair dryer
Internet, TV & Phone
Phone
Satellite television service
Direct-dial phone
Rooms & Comfort
Window opens
Balcony
Sea view
Desk
Air conditioning
Cribs/infant beds available
Cribs/infant beds available on request
Bath & Shower
Bathrobes
Complimentary toiletries
Bathtub only
Shower/bathtub combination
Private bathroom
Slippers
Location
Attractions Nearby
Plaza del Duque Shopping Center 0.09 miles
Fanabe Beach 0.20 miles
El Duque Beach 0.36 miles
La Pinta Beach 0.70 miles
Gran Sur Shopping Center 0.70 miles
Puerto Colon Marina 0.80 miles
Aqualand Costa Adeje 0.97 miles
Torviscas Beach 1.28 miles
Siam Park 1.42 miles
Troya Beach 1.51 miles
Veronicas Strip 1.69 miles
La Caleta National Park 1.74 miles
Golf Costa Adeje 1.76 miles
Golf Las Americas 2.18 miles
Arona Pyramid 2.42 miles
El Camison Beach 2.56 miles
Chayofita Hill 2.63 miles
Barranco del Infierno Trail 2.71 miles
Las Vistas Beach 2.77 miles
at_a_glance_airport Tenerife (South) TFS15m
View More
Resort Info
Costa Adeje, Tenerife
Costa Adeje Holidays & Hotels Hotels in Costa Adeje Costa Adeje accommodation takes in everything from cheap hotels to large beachfront resorts and...
Read more about Costa Adeje
Tenerife
Tenerife Holidays & Hotels Hotels in Tenerife From cheap beachfront apartments to all-inclusive resorts, Tenerife has a range of accommodation for...
Read more about Tenerife
Iberostar Selection Anthelia Reviews
Customer Reviews
TripAdvisor Reviews
Iberostar Anthelia
Allybrad, Cumbria
One of the best hotels iv ever stayed in. Very clean ,staff very friendly and helpful . Food great and pools wonderfull. Room was amazing will definatley be booking to go here again
The best thing about my stay was...
Everything
Iberostar Anthelia stay 20.06.16 to 22.06.16
Teresa Hine, UK
A fantastic Hotel. We really enjoyed our stay. The pool area was great and the view over the sea from there is unrivalled. We paid extra for a sea view and weren't disappointed. We had a large room but feel that it needs updating. Need some grab rails in the bath and a bathmat to put inside it. The Restaurant was lovely and the breakfasts were very good. Would definitely stay again.
The best thing about my stay was...
The pool area
lovely hotel
paul lawrence, rainham essex
top hotel very good for kiddies \ food spot on we had alovely 7 day stay go out the back gate all nice bars and restaurants 5mins walk
The best thing about my stay was...
location
Beautiful location
AGNIESZKA, United Kingdom
A warm welcome on arrival.Staff are exceptionally helpful and very friendly.The rooms are large , very clean and kept tidy by the maids.Evening entertainment can be hit and miss.A very relaxing and enjoyable stay.We will definitely return with our friends and family.
The best thing about my stay was...
Aquabike;)
Great hotel
Danny butterfield, Exeter
Great hotel with great kids entertainment both during the day and night... Breakfast tables and seating could be cleaner during the quick turnovers of people but as a whole a very clean hotel... Will be revisiting for sure
The best thing about my stay was...
Overall quality was very high!!!
A definite
JM66, London
Second time of returning to the Anthelia this year AI. A warm welcome on arrival, even the Manager Noa came out to see us to welcome us. Staff are exceptionally helpful, friendly and the Lifeguard at the heated pool, is amazing. Never did we want or have to search ourselves for a sunbed, he provided extra towels for all, was always happy to help. The rooms are large & very clean and kept tidy by the maids, well stocked fridges in the room which are filled everyday if you so choose to eat/drink from them AI or chargeable if B&B/HB. Food is of a good quality and always different. The Beach BBQ served excellent food during the lunchtime period should you so choose to sit outside away from the main restaurant. Kids club is excellent, my 9 yr old went everyday asking every 5 minutes is it time yet for the next session. Evening entertainment can be hit and miss, saw an excellent magician "Magia" & flamenco dancers. A very relaxing and enjoyable stay. We will definitely return next year.
The best thing about my stay was...
All of it
Fantastic Hotel in every way.
Jeanne Trutch, Wetherby
This hotel is second to none, on food, ambiance, cleanliness, staff and facilities. Perfect location.
The best thing about my stay was...
The facilities available
New Year week in Tenerife
Alex, London
Good location for this hotel Not a 5 stars hotel : staff a little bit directive sometimes, not always helping with the luggage/bags/golf bag, room service food awful, first room was not good enough for the price we paid and had nothing special, very disappointed.The second room (we asked to change room) , was OK but again for a 5 stars hotel, nothing special. The breakfast was really good.
The best thing about my stay was...
location
Excellent hotel
Paul Gavillet, Stockport
We have just returned home from a week at the iberostar and will definitely be going again! The food was second to none. The staff can not do enough for you and again in the mini club they were excellent with the kids. The only criticism that I can give is the tiles around the main pool are eroding which leaves fragments sticking to your feet. Must be changed!! Overall a Wonderful holiday
The best thing about my stay was...
The food and staff
Great location and staff excellent....
Steven Walsh-Hill, Crewe
Just back from an Easter break. We have stayed in Costa Adeje many times, but this was the first time at the Anthelia. Great location for both the shopping area and also the beach. Whilst the facilities are not as modern as some of the other premium hotels in the area, the facilities are excellent for families - warm pool, english TV channels, great kids club and attentive friendly staff. We would definitely stay again.
The best thing about my stay was...
The overall friendly feel of the hotel
Email my results
Please enter your email address and we will send you a link back to your search results to check live availability.
Email my results
We have sent your search to your email address.
Email my results
There was a problem sending the email, please try again later.