Showing rooms from hotel
GF Isabel Hotel, Costa Adeje
Flight found
GF Isabel Hotel, Costa Adeje
edit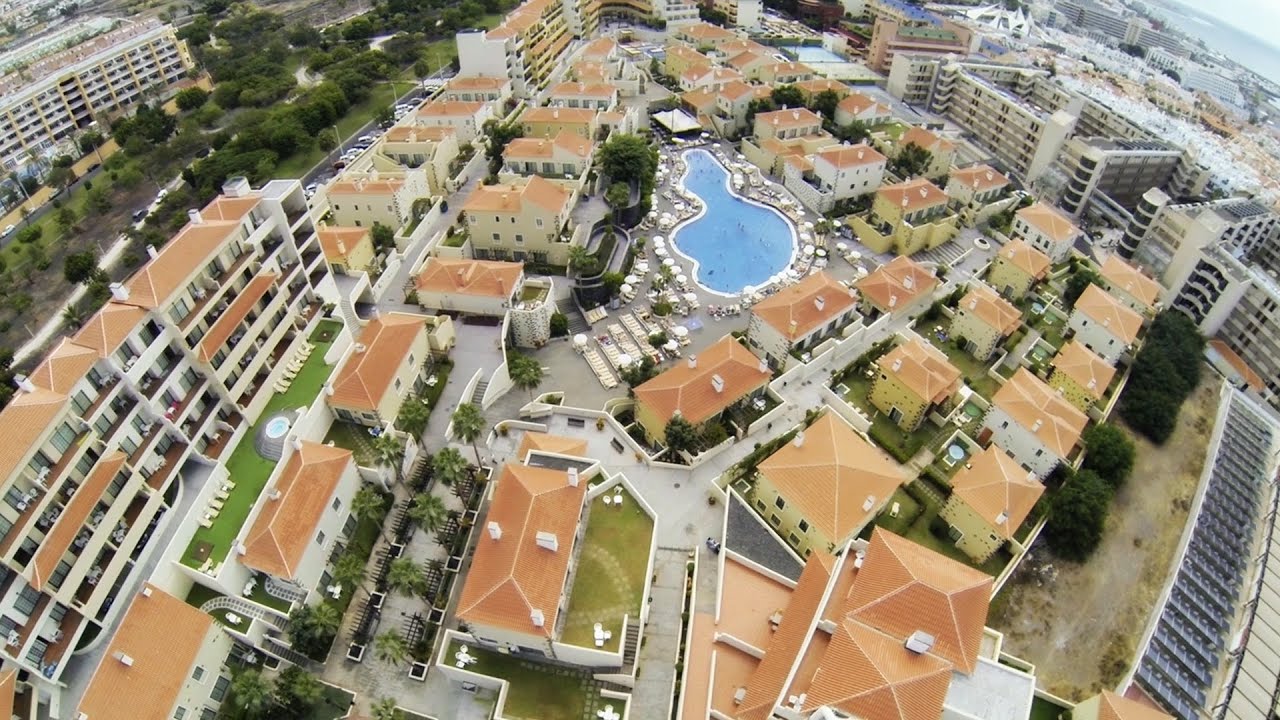 Overview
General Information:
Enjoy the Tenerife sun with your loved ones at GF Isabel Hotel. Located 600 metres from the beach, this 4-star hotel has everything you need for a fun-filled holiday. The property is conveniently located within 2kms of Aqualand Costa Adeje and La Pinta Beach.

Hotel Information:
Set across a lush green garden, this family-friendly hotel features 3 outdoor pools, a full-service spa, and a restaurant. The hotel has a play area for children including a pool with slides and a mini club, where the little ones can participate in several fun animation activities.
While children are busy, adults can relax by the pool or pamper themselves with world-class spa services and take advantage of the Jacuzzi and sauna on the terrace. The other amenities include a 24-hour front desk with multilingual staff, tour and travel assistance, safe-deposit box at the front desk, pool loungers, banking, library, computer centre, laundry facilities, and free Wi-Fi. At a surcharge, you can take advantage of the babysitting service and breakfast.
You can enjoy an all-inclusive stay at GF Isabel Hotel, which includes on-site food, beverages and several amenities in the room-rate. Additional charges may apply for special dinners and certain beverages, meals and amenities.
The on-site Plaza Canaria restaurant is set in an open terrace, designed in a rustic charm with wooden balconies and serves up vegan and vegetarian dishes with breakfast, lunch and dinner available. For lighter fare, you can head to the Pool Bar, the Lounge Bar, Tasca Bar, or the Tacoronte Bar where they serve up local and international snack menu including a selection of meats, cheeses, breads, salads and desserts, in a cozy setting.
Room Information:
The rooms are specially designed for the comfort of families. You can choose from apartments, bungalows and villas. The interiors are chic and furnished with all the modern amenities. The main highlights include air-conditioning, TV, phone, safety-deposit box and a fully functioning kitchen. All the rooms come with a balcony and the private bathroom comes with shower and bathtub combination, hairdryer, towels and free toiletries.

Help with hotel, flight or payment?
Facilities
Hotel facilities
Wifi
Internet access - wireless
Free WiFi - Public Areas
Free Wi-Fi
Pool and Wellness
Gym
Swimming Pool - Kids
Swimming Pool - Outdoor
Activities
Tennis on site
Billiards or pool table
Kids Club
Children's playground
Entertainment Staff
Hair salon
Food & Drink
Restaurant
Poolside bar
Coffee shop or café
Bar / Lounge
Services & Shops
Beauty services
Babysitting (Surcharge)
Medical assistance available
General Info
Gift shop
24-hour front desk
Number of floors 4
Elevator/lift
Multilingual staff
Grocery
Check-in time starts 2:00 PM
Total number of rooms 413
Pets not allowed
Conference center
Check-out by noon
Wheelchair accessible
Garden
Multiple small meeting rooms
Check-in time ends midnight
Room facilities
Room Amenities
Electronic/magnetic keys
Cookware, dishware, and utensils
Microwave
Hair dryer
In-room safe
Coffee/tea maker
Internet, TV & Phone
Direct-dial phone
Satellite television service
Phone
Rooms & Comfort
Sofa bed
Cribs/infant beds available on request
Separate dining area
Balcony
Kitchen
Air conditioning
Cribs/infant beds available
Bath & Shower
Bathtub or shower
Private bathroom
Location
Attractions Nearby
Fanabe Beach 0.15 miles
Plaza del Duque Shopping Center 0.27 miles
Gran Sur Shopping Center 0.51 miles
El Duque Beach 0.61 miles
La Pinta Beach 0.80 miles
Aqualand Costa Adeje 0.92 miles
Puerto Colon Marina 0.92 miles
Torviscas Beach 1.37 miles
Siam Park 1.43 miles
Troya Beach 1.61 miles
Golf Costa Adeje 1.76 miles
Veronicas Strip 1.77 miles
La Caleta National Park 1.83 miles
Golf Las Americas 2.16 miles
Barranco del Infierno Trail 2.50 miles
Arona Pyramid 2.52 miles
Chayofita Hill 2.65 miles
El Camison Beach 2.66 miles
Las Vistas Beach 2.82 miles
at_a_glance_airport Tenerife (South) TFS15m
View More
Resort Info
Costa Adeje, Tenerife
Costa Adeje Holidays & Hotels Hotels in Costa Adeje Costa Adeje accommodation takes in everything from cheap hotels to large beachfront resorts and...
Read more about Costa Adeje
Tenerife
Tenerife Holidays & Hotels Hotels in Tenerife From cheap beachfront apartments to all-inclusive resorts, Tenerife has a range of accommodation for...
Read more about Tenerife
GF Isabel Hotel Reviews
Customer Reviews
TripAdvisor Reviews
Excellent choice
Linda S, United Kingdom
This versatile hotel provides flexible accommodation which is clean and spacious. The staff are very professional, friendly and attentive.
The best thing about my stay was...
The location and the size of the bungalows.
Great Hotel
JohnB, Dublin, Ireland
Really enjoyed the hotel, activities, staff and food, had booked half board which gets you the big buffet with plenty of choice for dinner or lunch. The bungalows had microwave, hob & fridge, TV in living room and also in bedroom. There were other accomodation choices as well. Large pool area with very reasonably priced bar food. While not beside beach it is within walking distance. Goods kids club.
The best thing about my stay was...
Friendly staff
Short break
NIck h, Uk
Just had 3 days at the gf isabel. We had 3 large apartments which clean and tidy bathrooms also good with good hot shower location is fine 10 minutes to beach all downhill only had breakfast ,but this had good choice. Pool area good plenty sunbeds bar by the pool great good prices and Good friendly service.great pool staff who looked after adult and the children would definitely return
The best thing about my stay was...
Staff and service
Best holidays ever :)
Valdaresa Griciute, Ireland
It was the best place for holidays with kids.
The best thing about my stay was...
Food,kids club,staff,pool
Best time
Sandra, Ireland
Hotel is very comfortable. Everything is in high standard. Food was amazing. All staff very nice and helpful.
The best thing about my stay was...
Food, pool
Hotel Isabel
Irene Swain, Worcestershire
My sister and I have been staying at the Isabel for over 6 years now visiting 3 times per year so need,Essex to say we love it.
The best thing about my stay was...
The staff are very friendly, the apartments are basic but clean and the food is really lovely, there is something for everybody.
Excellent Hotel
S Byrne , Ireland
Excellent hotel, very friendly staff. Lots of activities for kids. Very clean and huge selection of foods. Highly recommended
The best thing about my stay was...
Quality of the hotel
Excellent Holiday
Alan Arnot, Hawick, Scotland
Room excellent, food very good even for a fussy eater like myself, small complaint would be that in a country reknowned for poor bacon, this was the worst! That aside 3 pools excellent loads of sun beds. Service in all areas very good.
The best thing about my stay was...
Easy to get sunbeds
Great family-friendly hotel
Rosaleen Boyle , Ireland
Very clean, great pools, great selection of food for breakfast. Had dinner one evening - very good selection there too.
The best thing about my stay was...
The weather and the hotel
Fantastic family break
Anne, Monaghan Ireland
Just back last night from this wonderful hotel. really very little to find fault with. The breakfasts were superb and the evening dinners also lovely, the buildings and surrounds were beautiful and the 2 heated pools were really clean and very well maintained. its very central to 2 beaches, just 10 mins walk, though on a bit of a hill , so not suitable for anyone with mobility issues who might want to go to the beach. We were all inclusive which was brilliant, although we still had a kitchen to use in our apartment if we had wanted it. The apartments were spacious , and we found the beds comfortable.The kids club , for younger kids, maybe up to age 8 seemed to be fantastic and had a lovely area for themselves. The wifi was ok as long in the rooms as long as you were near reception, can be poor at the pool but good just beside the pool bar , in the shade. Just 15 minutes from the airport, we got a taxi. Costa Adeje is a beautiful area for exploring and a taxi costing €10 each way the more livelier resorts, or even a cheap bus is available every 20 mins or so, from close by the hotel. the outings booked through the lady at a desk in reception are very reasonable, and are the same price as I could have gotten online from cheap websites. Very relaxing atmosphere around the main pool and certainly no problems getting sunbeds. lots of shopping at reasonable prices to be had in the surrounding areas and a large market across the street every wednesday and Saturday morning. I do hope to return.
The best thing about my stay was...
surroundings are beautiful
Email my results
Please enter your email address and we will send you a link back to your search results to check live availability.
Email my results
We have sent your search to your email address.
Email my results
There was a problem sending the email, please try again later.