Packing is a bit like marmite- you either love it or you hate it. For me, it's the time that I really start getting excited about my holiday and dreaming about all the amazing things I'm going to do and what I'll be wearing when I do them.  I've already bought a new bikini (after spending about 4 weeks desperately trying to tone my tummy to look good in it!) and have planned 20 different outfits for a week long holiday. I take pleasure in folding my latest purchases neatly and making sure my sun cream, size 6 wedges and brand new toothbrush all fit into my case, which is part of a beautiful dark purple John Rocha luggage set that I'm convinced will turn heads at the airport. However for my other half, packing usually includes chucking 4 t shirts, 2 pairs of shorts and some flip flops into an old rucksack that will count as hand luggage and announcing that he's done.
I'm convinced that if he had a nice suitcase he might take a little more pleasure into preparing for these getaways, it's all part of the fun holiday experience as far as I'm concerned. If any boys want to give hints for my fella's packing, please let me know. But for those of you out there that enjoy strutting your stuff through the airport with a head turning suitcase, here's a couple of suggestions for some worthwhile purchases.
For the girly girls
The ultimate girly girl's suitcase has to be bright pink. My favourite is this candy pink cabin collection case from Samsonite. Prrfect for carry on language, this lightweight and compact case will suit even the most stringent airline guidelines on cabin luggage.
For the stressed out traveler
5 hour flight delay? Best friend lost her passport? Stung by a jellyfish? This inspirational suitcase from House of Fraser will keep you going through even the toughest of journeys.
One that you won't lose on the luggage carousel 
This is a suitcase that your gran's curtains would be proud of! The girls in the alpharooms office love this spotty flowery suitcase from Tripp at Debenhams, and you certainly won't be able to miss it at the luggage collection point.
No Carbs before Marbs?
Fancying a trip to Marbella, TOWIE style? Try this leopard print beauty from Argos- it's reem.
For the stylish traveler
Off to catch some rays in St Tropez dahling? You need this amazing black and silver suitcase by Marcel Wanders for M&S for the ultimate in glamorous travel. This is lovely luggage for luscious ladies!
For the kids
Trunkis are so cute! Make sure your little ones have one of these funky suitcases that make travelling fun. Look, it's a tiger! Rawr. Amazing. This looks great and will keep the kids amused during flight delays.
My favourite passport cover
I've had a Radley passport cover for 4 and a half years now and I love it. It's survived two festivals in Spain, a year living in Paris, a few weeks as ID when I lost my provisional driving liscence and of course several holidays abroad (booked through alpharooms.com!). This one is the 'border heart' and it's lush, but be careful with the cream leather.
For a weekend away
I am totally in love with this John Rocha tan holdall. That's all I can say. Swoon!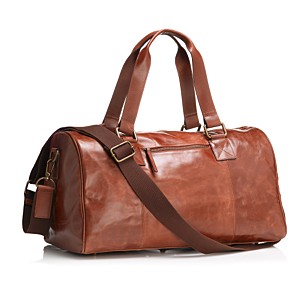 For the hardcore traveler
Okay, so you're going on a gap year and you're going to be doing some serious travelling. That doesn't mean you don't need a lovely girly rucksack. I found this Hi Gear one on www.gooutdoors.co.uk (another Sheffield based company, just like alpharooms.com!)  It combines just the right amounts of practicality and pinkness, of course (you might have noticed by now that I'm a bit of a girly girl!)
For him
Just incase my boyfriend decides that he wants to look sophisticated when we go away (love, if you're reading this, a surprise trip to Paris wouldn't go amiss), I've picked my favourite man-bag. This graphite flyweight case from Antler is a must for stylish males across the globe.
I hope you've all enjoyed my guide to the best suitcases around! Why don't you upload a pic of your suitcase to our Facebook wall? We'd love to see your wheeled wonders.
UPDATE:  Some of you thought that we should concentrate more on the practicality of bags rather than what it looked like. Next week, I'll write a guide to airline restrictions and to the best practical bags around.